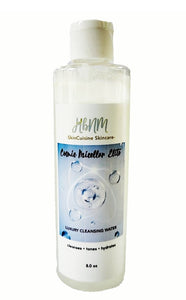 SkinCuisine Luxury Micellar Water
Regular price $19.97 Sale
ᴄᴏꜱᴍɪᴄ ᴍɪᴄᴇʟʟᴀʀ ᴇʟɪᴛᴇ ʟᴜxᴜʀʏ ᴄʟᴇᴀɴꜱɪɴɢ ᴡᴀᴛᴇʀ 
Cosmic Micellar Elite cleasing water is a luxury, out of this world rinse-free cleanser enriched with natural ingredients to gently remove excess oil, dirt and makeup. Cosmic Micellar Elite contains cleansing micelles that attract dirt particles and leaves the skin with superior hydration, smooth and soothed.
✅️Formulated with Hyaluronic Acid that attracts and holds on to moisture in skin cells, which allows skin to feel more hydrated and plump.
cleanses • tones • hydrates
Essentials: aqua(water), natural alcohol free witch hazel, vegetable glycerin, hyaluronic acid, jojoba oil, lavender, chamomile, rose oil
To use: shake gently, soak a cotton pad or ball with the solution and gently swipe it across your face to remove makeup, dirt, and impurities. Follow up with Plush Luxury Serum, UpLift Firming Serum, Glow Up Moisturizer or Intense Hydration Moisturizer.