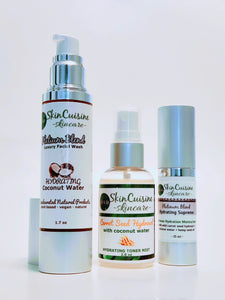 SkinCuisine Hydrating Skincare System
Regular price $35.50 Sale
Hydrating Skincare System promotes supreme hydration. Made with premium ingredients to leave the skin radiant, hydrated and youthful!
System includes: 
•Hydrating Coconut Water Luxury Facial Wash  •Carrot Seed Hydrosol w/Coconut Water Hydrating Toner Mist 
•Hydrating Supreme Intense Hydration Moisturizer
Key Ingredients
Coconut water has incredible hydrating qualities and is highly effective as a cleanser. Coconut water naturally moisturizes without adding excess oil.
Wild Carrot Seed Hydrosol  is a beloved skin care ingredient esteemed for its ability to soothe and replenish dry and inflamed skin.