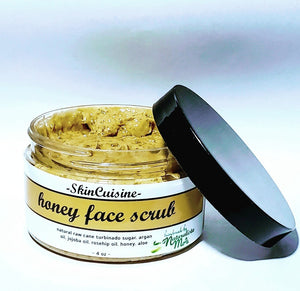 SkinCuisine Honey Face Scrub
Regular price $15.00 Sale
Honey Face Scrub is an Excellent mild exfoliation. It includes raw, organic honey and turbinado sugar to produce smooth, clear skin.
Honey's organic mild exfoliating ability reveals fresh, smooth skin by safely removing dead skin cells that can clog pores and make your skin look dull. Additionally it has a natural antimicrobial quality that helps heal acne scars, prevent blemishes, and can even help soften wrinkles
Turbinado Sugar can cleanse while buffing away dead skin cells. Additionally, sugar crystals gently buff away dead skin cells to reveal softer, more radiant skin.
How to use: Recommended to use once a week. Wet face, place an amount in palm of hands and gently massage, in light circular motions over the face. Let it sit for a minute and then rinse well.
natural raw cane turbinado sugar . argan oil . jojoba oil . rosehip oil . honey . aloe leaf juice. castile. beeswax. stearic acid. xyliance. geogard ect natural preservation