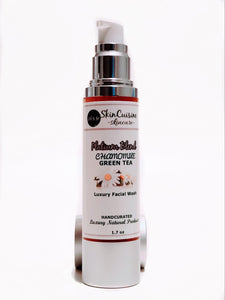 SkinCuisine Platium Blend | Chamomile Green Tea | Facial Wash
Regular price $12.00 Sale
Gentle face cleanser with a luxurious blend that produces healthy, youthful skin.
Platinum Blend which includes chamomile extract, green tea extract, silk powder and calendula extract.
Key ingredients 
Chamomile boasts anti-inflammatory and antioxidant properties that can help soothe the skin, reducing redness and blemishes. It can even relieve skin irritations like eczema and psoriasis. The antioxidants also help boost skin health to bring out an inner glow. Additionally, it's a hypoallergenic and helps to reduce skin irritants by neutralizing free radicals.
Green Tea fights skin cancer by promoting DNA repair. Green tea contains a powerful antioxidant called EGCG that fights DNA damage from UV rays to prevent skin cancer. That means it's also a potent anti-aging ingredient that combats signs of aging when applied topically. Green tea is excellent for its anti-inflammatory properties, thanks to its high content of polyphenols called catechins. Green tea is powerful antibacterial agent for treating acne and uncloging pores. It helps kill systemic bacterial inflammation for smoother, toned skin.
Calendula can significantly boost the appearance of your skin. It can affect blood flow to the skin cells, provide antioxidant protection that reduces the appearance of wrinkles and age spots, and even the visibility of scars. Additionally, can produce smooth, even-toned skin that glows with youthful vitality 
plant based • vegan • sulfate free • paraben free • phthalate free • biodegradable 
saponified oils of (olive,coconut, castor seed,rice bran,sunflower seed), coconut milk, silk powder, calendula, decyl glucoside(derived from coconut and fruit sugars), sci, chamomile extract, green tea extract, guar guam, glycerin, citric acid, roman chamomile oil