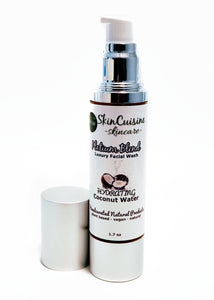 SkinCuisine Platinum Blend | Coconut Water | Facial Wash
Regular price $12.00 Sale
Coconut Water Hydrating Facial Wash is a gentle cleanser that hydrates your skin to make it more radiant and firm. This wash helps induce a more youthful, radiant glow.
Key Ingredients
Coconut water has incredible hydrating qualities and is highly effective as a cleanser. Coconut water naturally moisturizes without adding excess oil. 
Aloe vera leaf gel helps the skin in retaining its moisture and gives back its radiance. Also, it reduces visible wrinkles and fine lines on the face. It also prevents premature ageing of the skin by improving the elasticity of the skin and repairing skin cells.
Neem leaf extract known to benefit the skin for everything from healing to hydrating. The combination of vitamin E, together with fatty acids hydrate skin and keep it plump and dewy.
plant based . vegan . sulfate free . paraben free . phthalate free . biodegradable
saponified oils of (olive,coconut, castor seed,rice bran,sunflower seed), coconut milk, silk powder, calendula, decyl glucoside(derived from coconut and fruit sugars), aloe leaf gel, neem leaf extract, guar guam, glycerin, citric acid