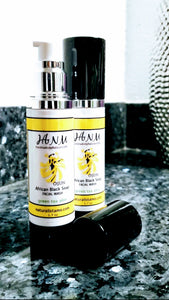 Òşun Black Soap w/Green Tea & Aloe Facial Wash
Designed for all skin types to provide glowing, rejuvenated skin.
Made with Camwood that is loaded with NATURAL skin smoothing properties and provides excellent skin care enhancing qualities. It is packed with anti-aging, detoxifying and wrinkle reducing properties.
Òşun restores damaged skin and is helpful in healing chronic eczema, acne, freckles and dark spots.
It is also used to relieve skin discoloration, pimples, rashes. sun burn and premature aging.
Green Tea fights skin cancer by promoting DNA repair. Green tea contains a powerful antioxidant called EGCG that fights DNA damage from UV rays to prevent skin cancer. That means it's also a potent anti-aging ingredient that combats signs of aging when applied topically. Green tea is excellent for its anti-inflammatory properties, thanks to its high content of polyphenols called catechins. Green tea is powerful antibacterial agent for treating acne and uncloging pores. It helps kill systemic bacterial inflammation for smoother, toned skin.
distilled water, dudu black soap, decyl glucoside(naturally derived from sugar based renewable resources), guar gum, glycerin, green tea extract, lavender, frankincense, citric acid 
plant based • vegan • natural • biodegradable • sulfate free