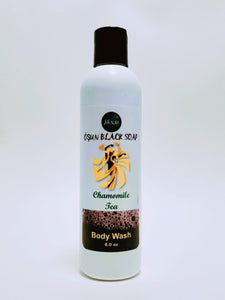 Òşun Black Soap Chamomile Tea Body Wash
Regular price $12.00 Sale
Òşun African Black Soap Body Wash is a natural cleanser with moisturizing and healing benefits.
Made with Camwood(osun) that is loaded with NATURAL skin smoothing properties and provides excellent skin care enhancing qualities. 
Òşun restores damaged skin and is helpful in healing chronic eczema, acne, freckles and dark spots.
It is also used to relieve skin discoloration, pimples, rashes and sun burn.
Chamomile posses many powerful skin properties such as anti-inflammatory, anti-fungal, antibacterial, antiseptic, and contains essential oils and antioxidants. Additionally, is a hypoallergenic and helps to reduce skin irritants by neutralizing free radicals. 
distilled water, dudu black soap, coco glucoside(naturally derived from sugar based renewable resources), guar gum, glycerin, chamomile extract, lavender oil, rosemary oil, roman chamomile oil, citric acid 
plant based • vegan • natural • biodegradable • sulfate free